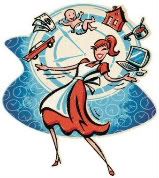 I had a baby recently - number two - and only a month or so later, despite the sleepless nights, I was chafing at the bit, wanting to get back to writing. I didn't actually have
time
to do any writing, mind you, but I was wanting to.
It got me to thinking. Most normal jobs give us new mothers maternity leave for at least a little while. I mean, normal jobs which pay money. But how much leave do we mummy writers take from writing? You know, the 'non-job' which pays squat-diddly?
Doesn't make sense, does it?
The oft-noted fact among writers and bloggers is that when you're working for yourself, somehow considerations like sick leave, maternity leave and the rest take a backseat. You might be running a high fever, and going through tissues like they're going out of style, but you'll still manage to dash off a post bemoaning the fact and asking for some bloggy love.
I started seriously writing for the first time (despite having dabbled in earlier years) 18 months after my first child was born. Now, I'm back into both writing and blogging 2 months after my second child...and believe me, I'm slow on the return compared to bloggers like the inimitable KLM over at
A Rock in my Pocket
, who barely missed a beat after having her fourth child in April!
We writers will write when we're on holidays. On trains and buses. In the middle of the night when normal people are sleeping. Some of us'll even take time off from paid jobs to write.
So yeah. We do it because we love it. And because we're just a little bit nuts.
I'd love to know what others (whether mothers or not) think. Here's your chance to spill the beans.
When was the moment you realised you had the writing bug, and had it bad?
And just how crazy are the lengths you've gone to in trying to find time to write?
If it wasn't before, my time really really is limited now, but I'll try and pop around and visit all my regular blog haunts. Also feel free to say hi and update me in the comments!